Electrical
Enclosures

Our unique range of robust, sealed enclosures have been specially designed and manufactured for use in the electrical and electronic engineering markets.
View our NEW! Door Panel Enclosures.
Electrical
Control Stations
Our varied range of switches is growing fast – from Push Button to Selector and Key Switches, Pilot Lamps and Palm/Foot Switches, illuminated and non-illuminated with up to 12 different types of heads to choose from, eight types of contact blocks, a choice of cap colours and voltage ratings.
One box thousands of uses
News
NEW! RANGE OF DOOR ENCLOSURES
JUST LAUNCHED

Our new range of Door Panel Enclosures are made from ABS HB material to IP65 standard can be used in seaside conditions, dry dusty environments and in heavy humidity. New Kwik Fix Cable Glands are also available.
Read more about our new Door Panel Enclosures.
Unique Snap-On Brackets Now Available

Din Rail & Wall Brackets
Unique, snap-on, easy to fix DIN rail and wall mounting brackets. One size fits all Screw Fixing Enclosures.
---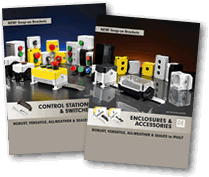 NEW BrochureS
Email info@decontrols.co.uk or call +44(0)1933 234400 to order your brochure today.